Practice at Lenzhof, Lenzburg
Redesign and modernisation of the GP practice in the historical bank building
For the tenant fit-out of the practice at Lenzhof, Lenzburg, the former bank building «Lenzhof» in Lenzburg was transformed into a new and modern GP practice. Old elements were modernised and incorporated into the new design. Here, Glaeser Projekt AG took on the drafting of the concept and the implementation as a general contracting partner.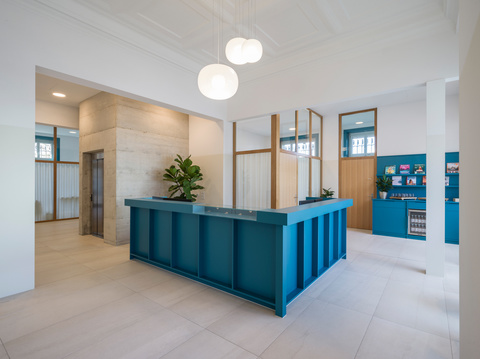 Building owner:
Enzian Health AG
Our services:
Drafting of the concept and implementation as GC partner.
600 registrations, even before it opened
The practice at Lenzhof, Lenzburg, was transformed into a modern environment for primary healthcare on behalf of Enzian Health AG. The new GP practice is for the whole family and aims to support patients in all walks of life. Even before the practice opened, it was clear that Lenzburg was in need of a new practice: with around 600 registrations, appointments in the modern premises, which make references to the history of the former bank, were already in high demand.
Extensive work over three floors
Glaeser Projekt AG took on the drafting of the concept for the practice at Lenzhof, as well as the implementation of the work as GC partner. The tenant fit-out in the 1913 building included two physiotherapy rooms and a fitness room in the basement, reception and waiting rooms as well as treatment rooms, examination rooms and a laboratory on the ground floor. On the top floor, we established an additional five treatment rooms, a storeroom, a break room for employees and the back office.
Historical elements in the modern GP practice
The renovation covered a new arrangement of rooms with glass element walls, the electrical systems, lighting, as well as creating comfortable climatic conditions for both employees and patients. Historical elements such as stucco and wooden panels in the former bank were taken into consideration during the work, and integrated into the concept to create a modern GP practice.