Expert Dialogue 02: 2021, Aktionshalle Stanzerei Baden, with Michel Péclard and Giusep Fry
Experience, exchange, take away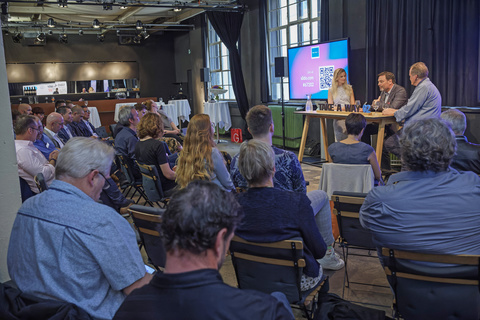 Numerous guests from the hospitality sector accepted the invitation to the second Take-A-Way expert dialogue in Aktionshalle Stanzerei, Baden in mid-September. The two high-calibre panellists Michel Péclard and Giusep Fry discussed opportunities and challenges in the hospitality sector. With the event format brought into being in 2020, Glaeser Projekt AG wants to support and stabilise the exchange between hospitality experts.
How do you strengthen team spirit and the power of innovation in challenging times? How is the future of hospitality shaping up, and what trends stand out? These topics were the key themes of this year's Take-A-Way expert dialogue. Heinz Schönholzer, CEO of Glaeser Projekt AG, and Anja Häusermann-Putignano, Team Leader and member of the executive board, welcomed the guests. Miriam Rickli, moderator, led the guests through the evening.
Looking forward with optimism
The Covid-19 pandemic was a tough challenge for everyone in the sector. Giusep Fry, manager of «UTO KULM», a restaurant steeped in tradition that he has been running since 1983, suddenly found himself back in the kitchen, while Michel Péclard, who made a name for himself as a business owner, restauranteur and unconventional thinker in the world of hospitality, let his chefs come and cook at his home every now and then to demonstrate their skills. The crisis has left its mark: employees have turned their backs on the sector, those running hospitality businesses are battling with staff shortages. And yet, both restauranteurs are optimistic about the future. Péclard explained how he supports his staff, allows them to participate in the business and how a good team spirit can have a positive effect on business success. As well as this, Fry emphasised the importance of close and flexible teamwork within the business.
Inspiring guests with culinary delights and beyond
For a long time, good food on its own has not been enough in hospitality. A contemporary interior, the staging of exciting spaces and a harmonious ambience are also part and parcel of the experience, as are modular and flexible hospitality concepts. Both experts explain to the Take-A-Way participants how to seek out trends, implement visionary ideas and how important it is to take guests' breath away.
The Apéro riche afterwards allowed the participants to have an in-person exchange of ideas with the experts, and exciting discussions about the Take-A-Ways obtained.
«None of us are getting out of here alive, so please stop treating yourself like an after thought. Eat the delicious food. Walk in the sunshine. Jump in the ocean. Say the truth that you're carrying in your heart like hidden treasure. Be silly. Be kind. Be weird. There's no time for anything else.»
Sir Anthony Hopkins
Karsten Henkel, EMCH+ Berger ImmoConsult AG