Experte Dialogue 01: 2020, Lägerebräu Wettingen, with Rolf Hiltl, Nicolas J. Mäder and Miriam Rickli
Inspirational, communicative, digital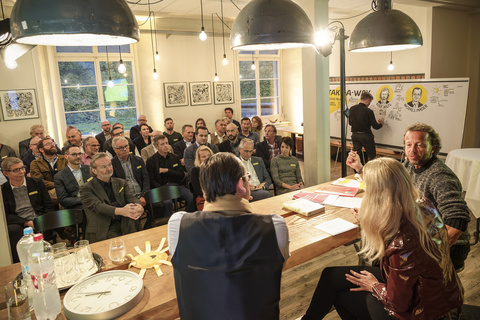 Around 40 invited guests from hospitality arrived at the first TAKE-A-WAY expert dialogue in Lägerebräu in Wettingen at the end of October. In creating this format, Glaeser Projekt AG has brought to life a novel platform for networking and dialogue. The concept has grown: an inspiring dialogue about the challenges of the sector led to many valuable findings for practice.
Experiencing and expanding knowledge, having discussions and taking home new ideas – this was the focus of the first Take-A-Way expert dialogue. After the guests were greeted and the introduction by Heinz Schönholzer, CEO of Glaeser Projekt AG, and Anja Häusermann-Putignano, Team Leader, owner of a vegetarian business Rolf Hiltl and restauranteur Nicolas J. Mäder discussed the current key topics in the sector under the direction of moderator Miriam Rickli. Which concepts work, and which are obsolete? Which social changes must be taken into consideration?
Reacting to trends and changing habits
Whether it's about climate conditions such as summers getting hotter and hotter, changed eating habits or the increasing time pressure in everyday lives – in an exciting discussion, Rolf Hiltl and Nicolas J. Mäder highlighted various different aspects and showed how you can use innovative ideas to lead your hospitality businesses into the future with success.
New inputs as "Take-Aways" for the participants
After the panel discussion, the guests had the opportunity ask the two experts their questions as part of a practice talk, and thus obtain specific ideas as "Take-Aways" to put into practice in their everyday business. The new event format resonated consistently positively with the participants.
After the event, and over an Apéro riche, the participants had the opportunity to network and exchange ideas with one another. In personal conversations and exciting discussions, the discoveries of the day were consolidated and "Take-Aways" pinned down.
«The talks were very interesting, credible and authentic. I was able to take a lot with me. TAKE-A-WAY is a good method and it is made easy to bring in your questions.»
Yvo Locher, Head of the Gastronomy Division Migros Aare
«The event was very exciting and it was a great evening. The main insight for me is that people are and remain central in the hospitality industry despite digitalisation and new technologies.»
Elisabeth Emch, Procurement at Turicum Lifestyle Hospitality Management AG