Expert Dialogue 03: 2022, Aktionshalle Stanzerei Baden, with Rudi Bindella jr., Niklaus Schneider and Christine Maier
Experience, exchange, take away, apply, expand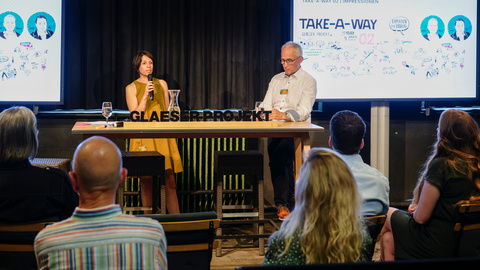 Mid-June saw Glaeser Projekt AG's third expert dialogue take place with specialists from the food service industry. At the Aktionshalle Stanzerei in Baden, Switzerland, Christine Maier interviewed panellists Rudi Bindella jr. and Niklaus Schneider about the challenges currently being faced in food service. The result was an informative dialogue about various approaches in the challenging, innovative sector.
How are restaurants of all different sizes going about finding new skilled staff members? How is it looking in the food service industry as a whole? What food trends are coming out on top? After guests were greeted by Glaeser Projekt AG Managing Directors Heinz Schönholzer and Anja Häusermann-Putignano, these topics took centre stage in this year's expert dialogue. Moderator Christine Maier ran the panel discussion and led guests through the evening.
An innovative, effective approach
Skilled food service staff are being sought after like never before. Therefore, moderator Christine Maier wanted to find out from the two panellists, Rudi Bindella jr., who is responsible for over 1000 members of staff in the family business Bindella, and Niklaus Schneider, host at Gault&Millau restaurant "Grosser Alexander" in Baden, whether and how they are dealing with this issue in their day-to-day business. The noticeable contrast in circumstances provided some exciting insights into the industry and showed that different approaches can be just as innovative and effective.
In-depth discussions and ideas to take home
After these insights were provided, the 2022 expert dialogue then set aside some time to meet both experts and ask them questions. Food and drink were offered at the reception afterwards and there was opportunity for some in-depth discussion, rounding off the third edition of this innovative event, and participants were able to take some exciting suggestions and ideas home with them.
After these insights, the Expert Dialogue 2022 offered time for personal encounters and questions to the two experts. The subsequent aperitif and the opportunity for in-depth discussions rounded off the third edition of this innovative event. The participants took home exciting suggestions and ideas. Take-aways - inputs to take home.
«The panel discussion was entertaining, informal and excellently moderated. And once again it was shown, despite various challenges: Those who are agile, courageous and innovative will also have good cards in the future»
Samuel Hauser